Are you looking for a Google Forms alternative? Google Forms is one of the most popular free form builders and is part of Google Workspace (G Suite).
However, it doesn't provide a high level of flexibility when it comes to customization or advanced features to collect data from visitors.
In this article, we'll share the best Google Forms alternatives, so you can select the best form tool for your business.
Why Do You Need a Google Forms Alternative?
Google Forms is a popular tool to create online forms. It is a free service by Google and easy to use. Users can create surveys and questionnaires and gather the data in spreadsheets for further analysis.
While Google Forms might be good for basic use, it lacks features that might be beneficial for businesses. For instance, if you're looking to collect payments for customers through a form, then that is not possible in Google Forms.
Another drawback of using Google Forms is that there is no conditional logic option. This means you can't automatically show or hide fields based on user responses.
Plus, there's not a lot of option for customizing the form's style. The default look of Google Forms may look unprofessional for businesses.
Last but not least, Google Forms also lack advanced security features such as locking forms based on user's access level, passwords, and more.
That said, there are many other popular online form builders out there that offer better features and integrations. Let's look at the best Google Forms alternatives.
1. WPForms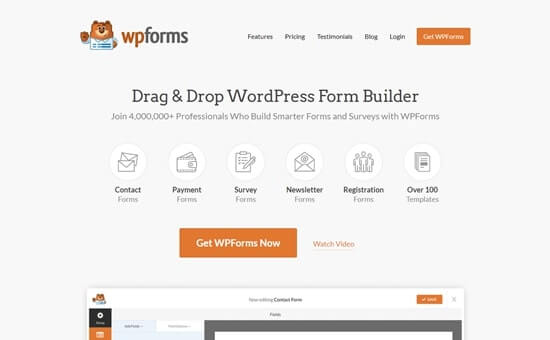 WPForms is the most beginner-friendly WordPress form plugin and the best Google Forms alternative. It is used by over 4 million websites.
You can use their easy to use drag and drop form builder to create just about any type of form you like without writing any code.
There are over 100 different form templates to choose from. You can create all kinds of forms from a simple contact form to more sophisticated forms like surveys, donation forms, file upload forms, and more.
What makes WPForms the best Google Forms alternative is its simplicity and feature-rich options.
You can add form fields to accept online payments, allow users to submit posts, sign forms online, add Likert scale, net promote score (NPS), add reCAPTCHA, ratings, enter payment fields, and more.
Each field is further customizable, as users can change the label, add a description, edit field size, mark a field required, and enable conditional logic.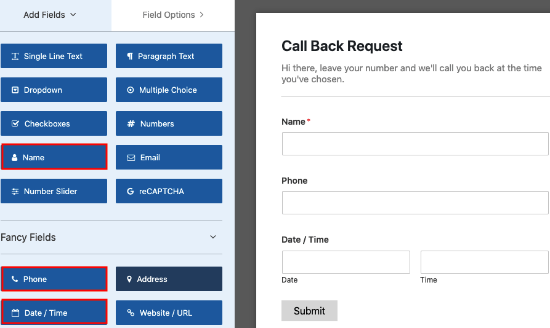 Aside from that, WPForms offers powerful addons to expand it features. Through Form Abandonment addon, you can follow up with people who left your form without completing it, so you can convert them into leads.
The plugin even lets you track the path a user takes before filling out a form with their User Journey addon. WPForms also helps in capturing the geolocation of a visitor and shows a user's country, city, and state along with form submission.
They have a form landing pages addon that allows you to create Google Form like form pages, and a conversational form addon that boosts form completion.
Another benefit of using the plugin over Google Forms is its integration with payment services like PayPal and Stripe. WPForms also easily integrates email marketing services like Drip, Constant Contact, AWeber, Sendinblue, and more.
Pricing: WPForms offers a free version called WPForms Lite. However, if you're interested in more powerful features and form field customization options, then go for WPForms Pro ($199.50 per year).
2. Formidable Forms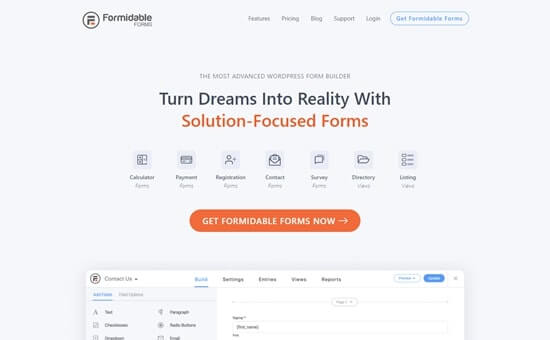 Formidable Forms is the next Google Forms alternative on our list. It is an advanced WordPress form builder that offers lots of powerful features to create solutions-focused forms.
Using its visual drag and drop builder, it is easy for anyone to create different types of forms like polls and surveys, payment forms, quizzes, contact forms, and more.
Each form design is mobile responsive and users can customize the form using its visual styler. There is even an option to edit the form HTML and add conditional logic to show form fields based on the user's answers.
The standout feature of Formidable Forms that it allows visitors to perform calculations. For instance, you can create calculators like a percentage calculator, mortgage calculator, or car payment calculator.
The plugin offers different form templates, easily integrates with various email marketing services, offers WooCommerce integration to help you build product forms, and is a perfect alternative for advanced users and developers.
Pricing: Formidable Forms prices start from $46.36 per year with the Basic plan.
3. Typeform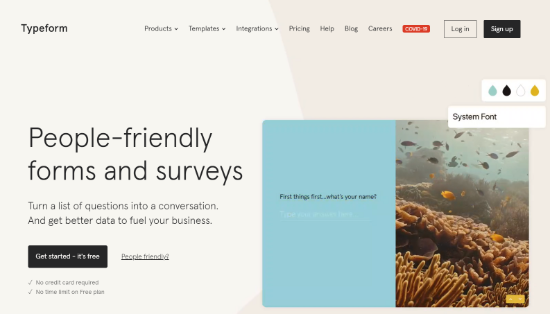 Typeform is a powerful tool to build forms for your website. It's packed with features and lets users create all types of online forms.
There are numerous form templates to get started and you can select from different categories such as quizzes, surveys, questionnaires, lead generation, polls, giveaways, and others.
Once you've selected a template, Typeform will ask the purpose of creating the form and what is it for. It will then show predefined questions, which you can edit as per your needs.
The form builder also offers different options for customization. You can change the layout of each question, edit the design, theme, and set up conditional logic.
Furthermore, Typeform offers additional features that make it a great Google Forms alternative. For instance, it allows you to set a response limit, schedule a close date, show closed messages to visitors, set up email notifications, and more.
Typeform also integrates with Google Sheets, Google Analytics, Google Tag Manager, Salesforce, Freshdesk, HubSpot, Facebook, Slack, Drip, Zoho CRM, and other marketing automation tools.
Pricing: Typeform offers a free plan and its paid version's prices start from $30 per month billed yearly.
4. Zoho Forms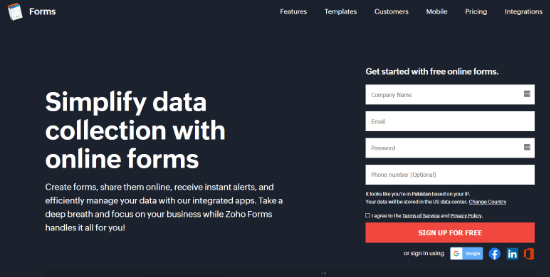 Zoho Forms is a popular form builder in the market and offers many features that you won't find in Google Forms.
You get multiple form templates for different industries and business units. For instance, Zoho offers templates for businesses, construction companies, medical institutions, eCommerce sites, HR, educational institutes, and more.
After selecting a template, there are various options for customization. Simply use the drag and drop builder to add or remove fields in the form, use conditional logic to set rules for each field, or create multipage forms.
Zoho Forms also offers built-in security measures to protect your data and limit access to forms. It shows how your forms are performing with detailed analytics reports.
Another benefit of using Zoho Forms is that you can automate workflows quickly. It lets routes form data to different apps and easily integrates with other Zoho apps.
Pricing: Zoho Forms prices start at $8 per month billed annually.
5. Wufoo
Wufoo is an online form builder by SurveyMonkey and is a popular choice among small businesses and large corporations. Like many other tools on our list, Wufoo also offers a drag and drop builder.
It has a user-friendly interface and you can easily create different kinds of forms using a pre-built template. It also lets you start from scratch and adding new fields is simple thanks to the drag and drop builder.
For each field, there are more options for customization. For example, you could rename a field, add ranges, show fields to certain people, add placeholder text, and more.
Other features of Wufoo include Google Analytics form tracking, collection of respondent's IP addresses, captcha spam protection, and integration with payment services to collect payments.
Pricing: You can try out Wufoo for free and its paid plans start from $169 per year.
6. Microsoft Forms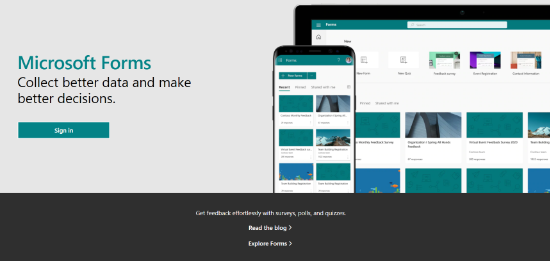 Microsoft Forms, as the name suggests, is Microsoft's version of Google Forms.
It's an excellent alternative for anyone who has an Office 365 subscription and ties easily with other Microsoft services. You can gather your form entries and view data in Excel.
Microsoft's form builder is easy to use and resembles a lot like Google Forms. You can add different form fields such as multiple choice questions, text, rating, date, ranking, Likert scale, and NPS.
Each field can be edited and the form can be broken down into different sections.
Microsoft Forms comes with basic pre-built templates to get started. This includes quizzes, surveys for customer feedback, event registration forms, party invitation forms, and more.
However, the form templates are limited and not as extensive as WPForms. Microsoft Forms also lacks a few other features as it doesn't offer conditional logic or fields to accept payments from customers.
Pricing: Microsoft Forms is free for users that have an Office 365 license.
7. JotForm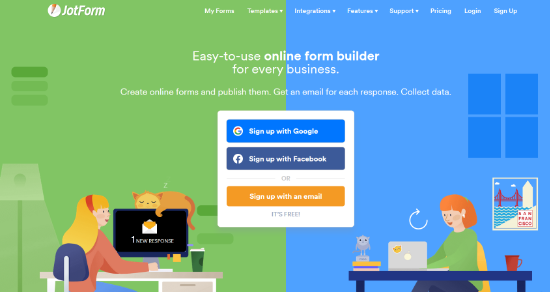 JotForm is the last Google Forms alternative on our list. It offers an online form builder and you can get started for free. The free version lets you create up to 5 forms, record 100 submissions, and offers 100 MB storage space.
However, if you're looking for more form submissions, storage space, Health Insurance Portability and Accountability Act (HIPAA) compliance, and no JotForm branding, then consider upgrading to one of its paid plans.
What makes JotForm a good alternative to Google Forms is the features it offers.
You get tons of templates to create any type of form, be it a product order form, registration form, contact form, surveys, file upload forms, or membership form.
Each field in the form template is editable and just like other form builders, it also offers a drag and drop builder. You can even collect payments by integrating your forms with PayPal, Square, Stripe, and other services.
There are also multiple options for conditional logic such as show and hide fields, perform complex calculations, skip or hide a page, and more.
Pricing: JotForm is available for free but its premium plans start from $174 per year.
Which is the Best Google Forms Alternative? (Expert Pick)
While all the tools we have mentioned in our list are great Google Forms alternative, we believe that WPForms is the best Google Forms alternative in the market.
It offers a lot of powerful features that you simply won't find in Google Forms. Plus, it's very easy to use and lets you create amazing forms using pre-built templates and drag and drop builder.
There is a reason why over 4 million website owners are using WPForms to build smart forms for their business.
The only downside of WPForms is that it requires you to have a WordPress website.
If you're using other website builders than WordPress, then you may want to look at Typeform or Zoho Forms.
We hope this article helped you find the best Google Forms alternative for your business. You may also want to take a look at our list of best live chat software and must have WordPress plugins to grow your business.
If you liked this article, then please subscribe to our YouTube Channel for WordPress video tutorials. You can also find us on Facebook and Facebook.
The post 7 Best Google Forms Alternatives in 2021 (Better Features + Free) appeared first on WPExperiencecoder.